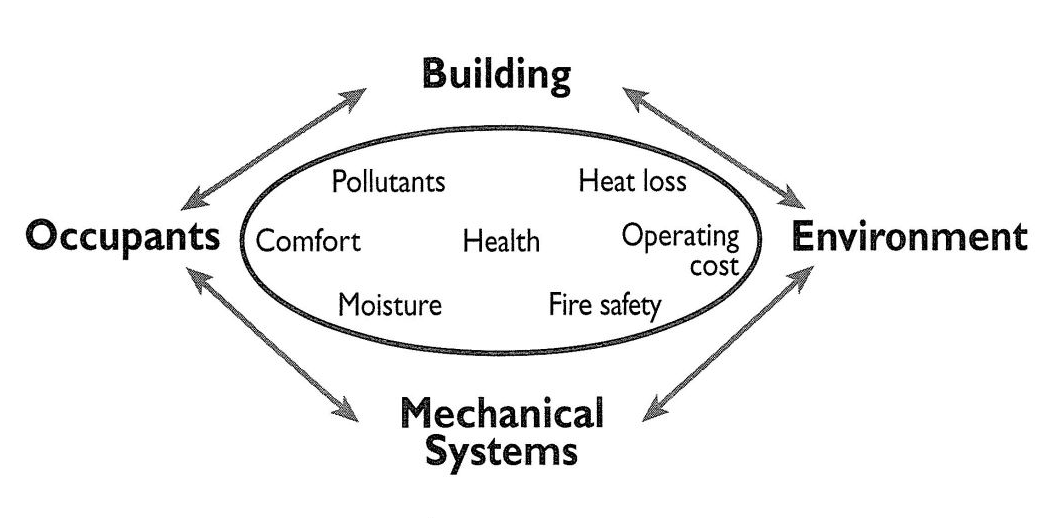 Every aspect of our work, from home performance assessments to advanced thermal boundary remediation and energy retrofits, utilizes principles of building science and house-as-a-system applications. Below you will find some of the most important concepts.
Building performance
The interdependent systems of your house perform to serve your needs- this is what makes a house your home. To assess the efficiency of your home we seek to understand how it performs. We systematically assess the efficiency using building science principles and diagnostic tools to measure air leakage, pressure, moisture content, gas leakage, and more.
Heat Transfer
* Conduction is the transfer of heat through solid objects that are in contact. A stud in a wall system, as a thermal bridge, conducts heat from the inside of the home to the outside.
* Convection is the transfer of heat by circulation of the heated parts of a liquid or a gas. Convection in homes occurs when air in the house moves around as a result of temperature gradients.
* Radiation transfers heat from a warm object to a cooler object when they are not in contact.
Moisture in Buildings
* Uncontrolled Moisture is the largest cause of poor indoor air quality and building durability issues.
* Bulk moisture- rain and groundwater through basement walls and floors. Ice dams
* Water vapor- cooking, cleaning, and respiration
* Condensate- water vapor that condenses
Airflow in Buildings
Uncontrolled air leakage (infiltration, exfiltration) is the primary cause of energy inefficiency. Air movement requires a passage between two zones that have a difference in pressures. We measure airflow in your home in CFM (cubic feet per minute) to determine how 'leaky' your home is and to how tight it needs to be.
Stack Effect
Stack effect occurs when a building is heated and the inside air, which is less dense than the outside air, rises up and out of any holes in the upper portions of the building envelope. The escaping air is replaced by outside air entering through holes in the lower portions of the house. Stack effect is caused by the relative buoyancy of warmer air.