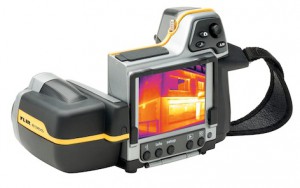 Used for inspection of building thermal envelope control layers in closed framing cavities that are not visible. Primary control layers to inspect for operational integrity are:
air barrier
insulation barrier
moisture/water barriers.
Each control barrier must be continuous and contiguous to each other throughout the building envelope that separates conditioned indoor air from ambient outdoor
conditions.
Other important applications are:
 targeted inspection of flat roof leakage pathways.
targeted inspection of hydronic pipe leaks in radiant floors.
Quality control and verification of effective installation of insulation throughout job sequencing: pre – intermittent – post completion.
Stretch Code compliance and HERS rating verification and inspection of the thermal envelope air barrier by-passes.
Envelope airtightness testing with a blower door accurately measures building air leakage (infiltration/exfilatration) rates. It is invaluable tool for monitoring:
in-progress and final air leakage targets for new construction.
Stretch Code and verification of airtightness standards for HERS Rating
pre/post leakage reductions for renovations.
verify zonal air-pressure boundaries between adjoining building sections.
Forced Air duct system air tightness HVAC testing and system flow rates and balance
HVAC duct airtightness testingUsed to test for duct leakage in order to insure effective performance of the heat, ventilation, or air conditioning delivery system.
Building ventilation requirements
How tight is too tight? After tightening up a building, the need for mechanical ventilation must be assessed to ensure proper air changes per hour for the health and safety of the occupants.
Combustion Safety Testing
It is imperative that home depressurization limits are tested to ensure that atmospherically vented combustion appliances do not back draft combustion gases into living space. This is very important for the health and safety of building occupants.